2022 ROG Flow Z13 (GZ301ZE)
One Device. Infinite Play.
With a design inspired by the 20th-century Space Race, the Flow Z13 has numerous nods to retro-futurism.
CPU:I9-12900H

GPU:RTX 3050Ti

Storage : 1TB SSD

Memory : 16GB


Free Shipping

Free shipping on orders over 200 AED

Get Help Buying

You can email or call us

Safe and Secure Payment

Encryption for your payment security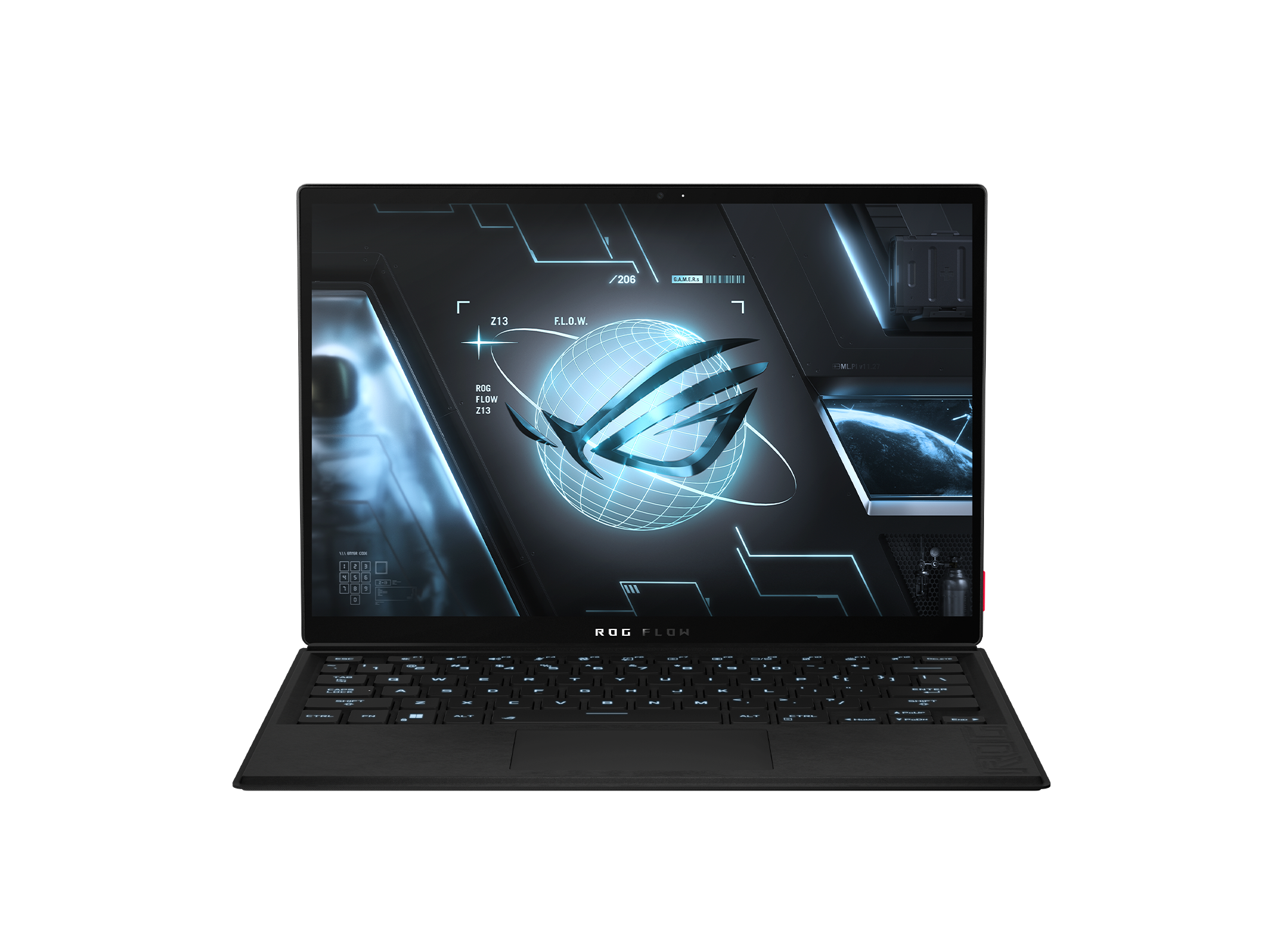 Dive headfirst into the best tablet gaming experience on Windows 11. The ROG Flow Z13 packs with a 14-core Intel® Core™ i9-12900H and NVIDIA® GeForce RTX™ 3050 Ti Laptop GPU into the most powerful gaming tablet. The future is portable.
ROG Flow Z13
One Device. Infinite Play.
Retro-futurism design
With a design inspired by the 20th-century Space Race, the Flow Z13 has numerous nods to retro-futurism. The chassis is covered with spacecraft-inspired machining, carved right into the high density aluminum alloy itself. After experimentation with 39 different processes, including 10 precision CNC cuts and two anodizing coats, alloy 6063 has a unique finish that evokes the golden age of space. The premium anti-fingerprint coating repels and reduces the appearance of fingerprints, and makes cleaning the surface a breeze.
Play your way
No matter how you like to interact with a PC, the Flow Z13 supports it. When gaming, enjoy classic keyboard and mouse, controllers, or a full touchscreen. For content creation, utilize robust external I/O with the optional XG Mobile to pair extra monitors, ethernet networking, or extra USB accessories. You can also leverage the muscle of the XG Mobile for intense loads such as video or 3d rendering. One device, infinite possibilities.
Class-defying power
Enjoy console gaming power on the go. With a 14-core Intel ® Core™ i9-12900H CPU and a GeForce RTX 3050 Ti Laptop GPU in this ultraportable tablet form factor, you can pair the best aspects of PC gaming with the freedom to go anywhere. Blisteringly fast 16GB LPDDR5 memory and with 1TB of PCIe® SSD storage make the Flow Z13 the premiere tablet gaming machine for Windows 11.
All day power
The Z13 is a true featherweight, weighing in at just 1.18kg and only 12mm thin. This extremely lightweight chassis means the Z13 is exceptionally portable, fitting in even small bags and carrying cases. The included 100W adapter weighs just 300g, but despite its svelte size, supports Fast Charging Technology which can juice the Z13 up to 50% battery in only 30 minutes.
NVIDIA® GeForce RTX™
Xbox Game Pass
* All specifications are subject to change without notice. Please check with your supplier for exact offers. Products may not be available in all markets.
*PCB color and bundled software versions are subject to change without notice.
*Brand and product names mentioned are trademarks of their respective companies.
نظام التشغيل
Windows 11 Home
المعالج
12th Gen Intel® Core™ i9-12900H Processor 2.5 GHz (24M Cache, up to 5.0 GHz, 14 cores: 6 P-cores and 8 E-cores)
بطاقة الجرافيكس
NVIDIA® GeForce RTX™ 3050 Ti Laptop GPUROG Boost: 1085MHz* at 40W (1035MHz Boost Clock+50MHz OC, 35W+5W Dynamic Boost)4GB GDDR6
الشاشة
13.4-inchUHD+ 16:10 (3840 x 2400, WQUXGA)IPS-levelشاشة لامعةDCI-P3: 85شاشة لمسRefresh Rate: 60HzResponse Time: 30msAdaptive-SyncPantone ValidatedSupport stylus: YesMUX Switch + OptimusSupport Dolby Vision HDR : Yes
الذاكرة
8GB*2 LPDDR5 on boardMax Capacity: 16GBSupport dual channel memory
التخزين
1TB PCIe® 4.0 NVMe™ M.2 SSD (2230)
منافذ الإدخال والإخراج
1x 3.5mm Combo Audio Jack1x USB 2.0 Type-A1x USB 3.2 Gen 2 Type-C1x Thunderbolt™ 4 support DisplayPort™1x ROG XG Mobile Interface and USB Type-C combo port (with USB 3.2 Gen2, support DisplayPort™ 1.4)1x card reader (microSD) (UHS-II)1x USB 3.2 Gen 2 Type-C support DisplayPort™ / power delivery / G-SYNC
لوحة المفاتيح ولوحة اللمس
لوحة مفاتيح Chiclet بإضاءة خلفية RGBTouchpad
الكاميرا
8MP camera and 720P HD camera
الصوت
تقنية Smart Ampتشغيل الصوت بتقنية Dolby AtmosAI noise-canceling technologyHi-Res certificationBuilt-in 3-microphone array2-speaker system with Smart Amplifier Technology
الشبكة والاتصال
Wi-Fi 6E(802.11ax) (Dual band) 2*2 + Bluetooth® 5.2 (*Bluetooth® version may change may change with OS version different.)
البطارية
56WHrs, 4S1P, 4-cell Li-ion
مصدر الطاقة
TYPE-C, 100W AC Adapter, Output: 20V DC, 5A, 100W, Input: 100~240V AC, 50/60Hz universal
إضاءة الجهاز
شريط الإضاءة Aura Sync
الأبعاد (العرض x العمق x الارتفاع)
30.2 x 20.4 x 1.20 ~ 1.20 cm (11.89" x 8.03" x 0.47" ~ 0.47")
Xbox Game Pass
Xbox Game Pass Ultimate_1 month (*Terms and exclusions apply. Offer only available in eligible markets for Xbox Game Pass Ultimate. Eligible markets are determined at activation. Game catalog varies by region, device, and time.)
Security
BIOS Administrator Password and User Password ProtectionTrusted Platform Module (Firmware TPM)FingerPrint: YES
محتويات العبوة
ROG Flow Sleeve (2022)
Note
Dimension of keyboard: 30.2 x 22.0 x 0.56 cmWeight of keyboard: 0.34 Kg
كيف يمكنني إنشاء حساب ASUS؟

1. انتقل إلى موقع ASUS الرسمي على الويب وانقر فوق "تسجيل الدخول" في الركن العلوي الأيمن.
2. انقر فوق "التسجيل".
3. اختر أسلوب التسجيل من صندوق الوارد )لتسجيل دخول الاعضاء المفضل لديك).(يكون التسجيل بصندوق
الوارد إلزاميًا في حالة التسوق داخل المتجر).
4. أدخل معلوماتك في الحقول اللازمة التي عليها علامة "*". انقر على "أنا لست روبوتًا ثم على "التسجيل".
5. اكتمل تأكيد معلوماتك الأساسية.
6. الرجاء الوصول إلى بريدك الإلكتروني وانقر على رابط التأكيد لتنشيط حساب ASUS الخاص بك.


هل يمكنني الطلب كضيف؟

نعم، يمكنك التسوق كضيف لكن تمنحك عضويتنا المزيد من الميزات للتسوق هنا.

هل يمكنني الطلب عبر الهاتف؟

لا يدعم متجر ASUS الطلبات عبر الهاتف. الرجاء استخدام المتجر عبر الإنترنت لتقديم الطلبات.

هل يمكنني إلغاء طلبي؟

يمكنك إلغاء طلباتك قبل أن تصبح السلع جاهزة للشحن. الرجاء النقر فوق "طلباتي"، ستجد خيار الإلغاء.
إذا لم يتوفر خيار إلغاء طلبك في "طلبي"، فإن هذا يعني أن طلبك قيد الشحن. الرجاء الاتصال بمركز الخدمة لدينا لمتابعة إرجاع السلع.


كيف يمكنني تتبع طلبي؟

يمكنك تتبع طلبك من خلال الاطلاع على قسم "طلباتي" في حساب ASUS الخاص بك.
يمكنك أيضًا الحصول على المزيد من المعلومات التفصيلية من الموقع الإلكتروني لشركة الشحن.
(www.aramex.com)
انقر على تتبع وأدخل رقم التتبع لعرض التحديثات على شحنتك

ماذا أفعل إذا لم أتلق رسالة بريد إلكتروني لتأكيد طلب؟

الرجاء التأكد من أن عنوان البريد الإلكتروني المسجل في طلبك صحيح أو أنه لم يتم إرسال البريد الإلكتروني إلى
مجلد البريد العشوائي. يمكنك أيضًا الانتقال إلى صفحة حسابي (حساب ASUS) للتحقق من تفاصيل الطلب.